QUARTZ COUNTERTOPS
Quartz is one of the hardest materials in the world, making it a popular choice for countertops. It is stain- and heat-resistant, making it more durable and long lasting than granite. Since it is man made from approximately 95% ground natural quartz and 5% polymer resin, the color and pattern possibilities are limitless. The non-porous quality of quartz also makes it highly resistant to mold and bacteria.
---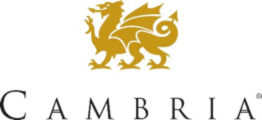 Cambria Quartz offers the natural beauty you demand. Once thought impossible for quartz, the color, depth, clarity and natural variation found in Cambria designs are equaled only by how it performs. They offer a palette of more than 120 trend-setting designs, the most exceptional selection in the world. Plus all of their designs share the same price, making it easier to change your mind as you experiment with deign.
Click here to view Cambria Quartz Products »
---

Viatera Quartz is part of the LG Hausys family of brands. It is exceptionally versatile for many different styles and applications. Viatera is available in stunning hues and in any shade imaginable through color-matching technology, providing value and performance combined at a cost you cannot beat. With six different collections to choose from and 15 edge styles, Viatera allows you the freedom to create a space that truly reflects the beauty and wonder of life.
Click here to view Viatera Quartz Products »
---

Caesarstone is the original quartz manufacturer. With a continuous proactive approach to producing over 40 innovative colors and textures, Caesarstone consistently provides a premium quartz surface with remarkable style and endurance. Nonporous, stain, scratch and heat resistant and backed by a residential lifetime warranty, Caesarstone is the ideal surface for kitchens, vanities and more.
Click here to view Ceasarstone Products »
---

Silestone is the world's leading producer of quartz surfaces designed for high-quality kitchens and bathrooms, including countertops and sinks with advanced bacteriostatic technology. This exclusive technology is based on the use of silver ions to prevent the propagation of bacteria. Silestone is also the only brand that offers a certified warranty, in writing. Silestone quartz products are stain, acid, scratch and impact resistant and come in a wide range of textures and colors to help you design your vision.
Click here to view Silestone Products »
---

HanStone Surfaces is a leading manufacturer of natural quartz surfaces with the most advanced, nature friendly manufacturing plant in North America. Their HanStone Quartz product line is ideally suited for countertops, vanities, bar tops, reception areas, conference rooms and other surfaces throughout residential and commercial interiors. Nature's hardest material, natural quartz, is combined with high-quality polymer resin and pigment to produce a durable yet luxurious stone surface, making HanStone Quartz the premier choice for builders throughout the world.
Click here to view HanStone Products »